MTN Data Zone bundle: The Data Zone package will shortly be reinstated by Scancom PLC, the MTN Ghana operators, with updated fees for its customers, according to the National Communications Authority (NCA).
When will MTN Zone Bundle be restored?
According to MTN, the MTN Zone Bundle will be restored on May 5th, 2023. That is this coming Friday.
To this end, MTN Ghana in a Short Message Service (SMS) to its customers on Wednesday, May 3 notify the return of the innovative data bundle with revised charges.
"Dear Valued Customer, kindly be informed that effective May 5th, 2023, Data Zone bundles will be available to you with revised offers," the message read.
MTN Ghana has created the Data Zone bundle, which offers customers a 1-day validity bundle at a discounted price at the point of purchase.
MTN Zone Bundle Not Working, Why?
The innovative data bundle offered by MTN Ghana to its customers has been suspended as of April 5, the company informed in a press statement on Wednesday, April 12.
The mobile network in the statement said, "The suspension of the innovative Data Zone bundle is due to a review of the bundle offer in line with the Significant Market Power (SMP) directives applied to MTN Ghana in June 2020, not to be the lowest priced on any offer in the industry."
Nonetheless, it apologized to its "cherished consumers" and said that it had only communicated through channels for service activation.
We want alignment on a revised Data Zone bundle to be reinstalled as soon as practicable, and the business continued.
To this aim, Mr. Anokye revealed that Scancom PLC has modified its data zone package while speaking at a press conference on Wednesday, April 26 in Accra.
New Prices For MTN Data Zone Bundle
The MTN data zone bundle is back and it's not better than earlier as most users complain about the new prices on social media. This is terrible news for all the internet lovers out there who were hoping for unlimited browsing, streaming, downloading, and more since the announcement that the MTN Data Zone Bundle will be reinstated. You can now get less data for more money with the MTN data zone bundle. Here are the new prices;
| | |
| --- | --- |
| 323MB | GHC1.94 |
| 489MB | GHC2.59 |
| 796MB | GHC3.89 |
MTN Data Zone Bundle New Prices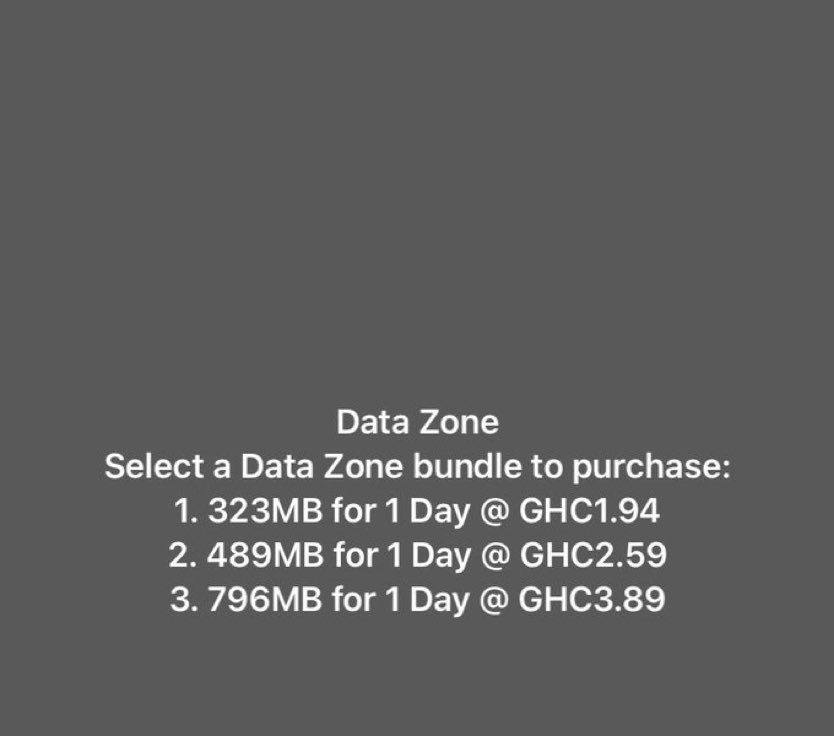 But MTN has submitted a new data zone bundle, which the regulator has approved. We anticipate that the product will be accessible soon… We will keep you posted when the data bundle is finally restored with the new charges.
How to activate MTN Data Zone Bundle code?
To activate MTN Zone Bundle, you have to have an active bundle to access it. You can buy any of the MTN data bundles by dialing *138# or using the MyMTN app. Once you have an active bundle, you can dial *135# to see the current discount rate and opt-in to MTN Zone Bundle. You will receive a confirmation message and start enjoying the discounted data rates.
Dial *135#
Select option 2 (zone bundles)
Enter option 1 (Data Zone Bundle) or option 2 to check your zone bundle balance
select any of the options that have your preferred amount and package
Once you select it you receive an SMS of successful purchase on your phone
How to Subscribe to MTN Data Zone Online
Visit the online MTN Data Zone Site: https://www.mtndatazone.mobi/#/login
Enter your Phone Number: eg: 024XXXXXXX
Click on "Send OTP" and enter your OTP
Choose the bundle you want
Subscribe and pay with Airtime or MoMo to receive the Bundle
Please note that offers change every hour so make sure you are checking regularly.