KNUST Mastercard Foundation Scholarship ' Kwame Nkrumah University of Science and Technology's Mastercard Foundation Scholars Program (MCFSP)' at KNUST aims to create leaders who bring positive change to Africa.
MCFSP at KNUST offers a wide range of scholarships so that qualified, academically gifted, but economically underprivileged, young people in Ghana and Africa can receive a high-quality university education.
The Mastercard Foundation Scholars Program offers its participants the ability to get in-depth training that will enable them to successfully lead change. The program provides a wide range of services, including mentorship, ethical leadership training, skill development, etc., that will enable the scholar to succeed academically, participate in the community, move to employment opportunities, and become a more well-rounded member of society.
Eligibility for the 2022/2023 academic year:
Ghanaian applicants must purchase an E-voucher for the purpose of applying to KNUST, and they must complete the application as soon as the online portal opens (HERE!). Foreign applicants are instructed to go to the same address and choose the International students-only option.
All prospective candidates must have a genuine and legitimate WASSCE, GBCE, ABCE, GCE O'Level & A'Level, or their equivalent results, from an accredited/recognized institution, in their possession at the time of application. Results of the applicant cannot be older than five years.
NO AWAITING RESULT Candidates will go through the scholarship application process.
The applicant must provide evidence of having Critical Economic Needs.
Also, the applicants must satisfy KNUST's admission requirements. The recipient of the scholarship must be admitted to a KNUST program successfully in order for it to be given out.
The candidate must have a track record of leadership and involvement in the community (s).
The applicant must be ready to return home and give back to his or her community.
There shall be a consideration for Females, Unsettled Individuals (Certified Refugees, Internally Displaced Persons, etc.) and those with Disabilities.
The applicant must NOT be enrolled in any tertiary institution.
The application form is available for download (HERE!) by those who qualify for the scholarship.
The scholarship application form is free and includes a watermark with the year 2023.
The following address must receive completed application forms supplied by courier mail (such as EMS, DHL, Fedex, UPS);
Those who meet the requirements should apply as soon as they can for the scholarship. Don't wait till KNUST admissions are open.
"the program manager master card foundation scholars program at knust africa hall road, impact building pmb knust kumasi ghana"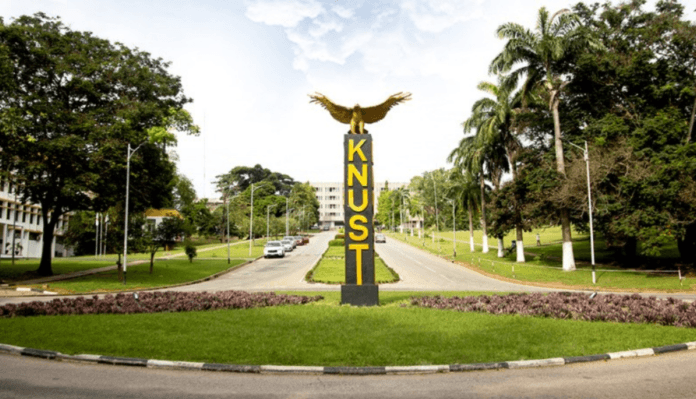 The application deadline for 2023 is on or before Tuesday, June 30, 2023
PS: Although the staggered interviews will start in May 2023, applications received beyond June 30, 2023, won't be processed.
Foreign applicants should remember to include copies of their original result certificates or equivalent certificates.
Additional Information
Three interviews will be performed sequentially by three independent panels, and unsuccessful candidates will be notified at each stage.
Unannounced site visits would be made for Ghanaian applicants.
From mid-March to the end of September 2023, a staggered continuous application procedure will be open for the scholarship.
Only after candidates have had their results validated, three interviews, and, in the case of Ghanaian applicants, a visit, will they be notified in writing of their success.
At no point in the process are charges, fees, facilitation, agents, or intermediaries necessary.
Any applicant who provides false information or intentionally misrepresents facts or makes an attempt to sway the selection process will be disqualified and have their employment recommended for termination.
The Terminal Selection Committee's judgments are conclusive.
The applicants' specified phone numbers, Skype IDs, and email addresses must be active at all times in order to receive important information about their applications.
Under no circumstances may applicants inquire about the status of their applications with the Secretariat. As necessary, the Secretariat would notify and get in touch with candidates.
Contact the Secretariat at +233-206-030-790 or +233-3220-62975 for further information or send an email to mcfsecretariat@knust.edu.gh or mcfknust@gmail.com.
Some Details of the Scholarship Package
Support Services for Counseling
Professional Development Services (including Industrial Mentorship, Career Guidance, Professional Development, and Enterprise Development, amongst others)
comprehensive monetary assistance (full tuition, fully paid on-campus accommodation, learning materials, transportation allowance, and a full-year monthly stipend).
Meetings with other scholars on a regular basis concentrate on chances for professional and personal growth as well as on activities designed to strengthen societal bonds and scholars' capacities.
academic coaching, online learning, and tutoring to continue providing academic support.
professionally developing internships with industry that are specifically sourced.
Opportunities to participate in mentorship, community service, and leadership congresses (Go-back Give- Back),
the honor of joining the Mastercard Foundation Scholars Alumni family, which is expanding, and networking with the community of international scholars.
How To Apply: KNUST Mastercard Foundation Scholarship
Click the first link to check the application process
Application Procedure for KNUST's Mastercard Foundation Scholars Program
KNUST's Mastercard Foundation Scholars Program
KNUST: Submit an application for the Jim Leech Mastercard Foundation Entrepreneurship Fellowship for 2021–2022.