First Female KNUST SRC President: KNUST witnessed a historic moment in its student body as Yvonne Osei Addobea, a Level 300 student, was elected as the new President of the SRC for the academic year 2023-2024.
With this victory, Yvonne Osei Addobea becomes the first female President of the KNUST SRC, breaking barriers and paving the way for gender equality in student leadership.
Additionally, Baaba Mills Christabel emerged as the General Secretary-Elect, further exemplifying the growing diversity and inclusivity in student governance.
Achievement: Yvonne Osei Addobea as KNUST SRC President
Yvonne Osei Addobea's election marks a momentous milestone in the history of KNUST. The young leader successfully garnered the support and trust of her peers, securing a total of 8282 votes, which accounted for 37.37% of the votes cast.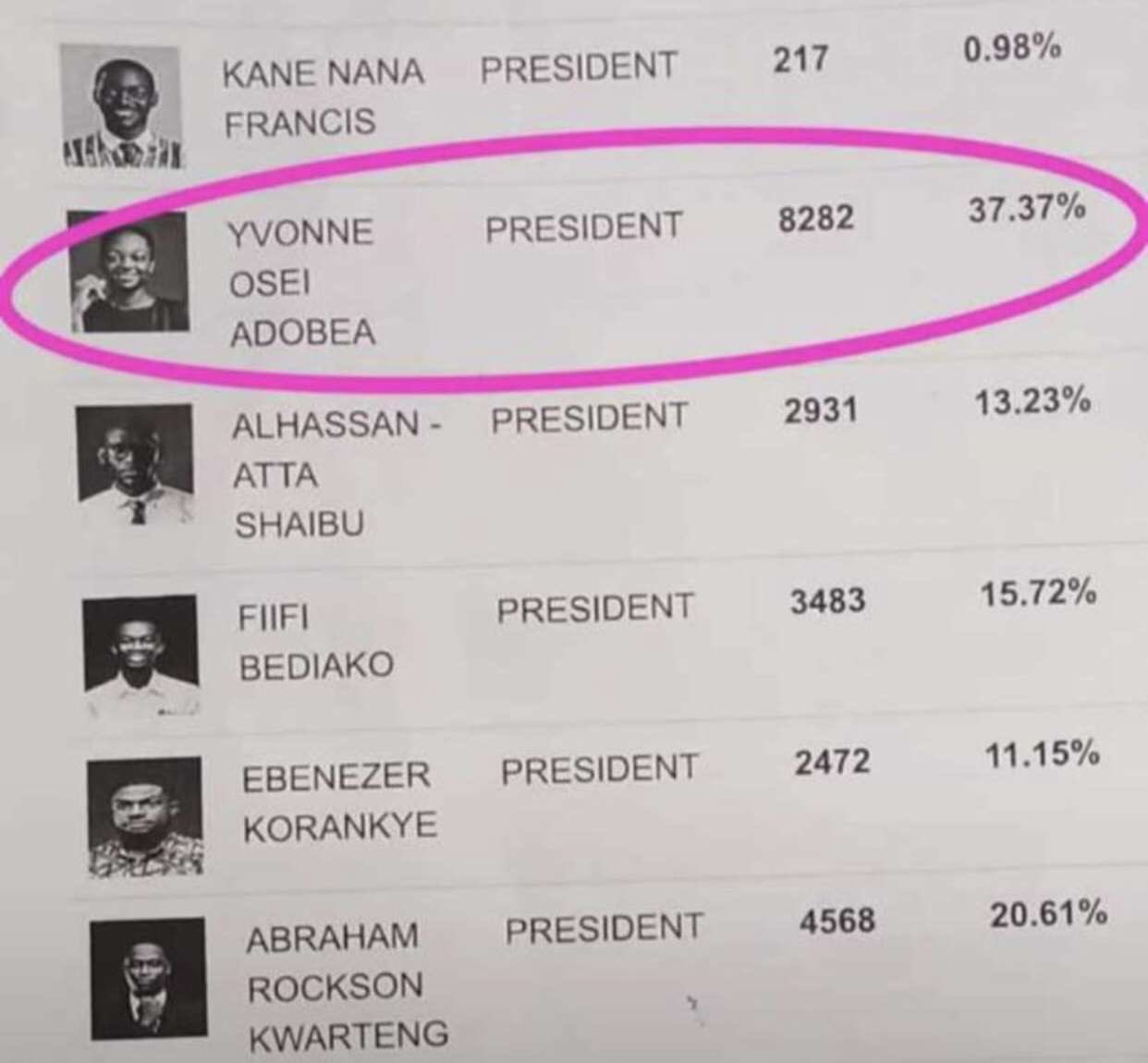 Competing against five other candidates in the presidential race, Yvonne Osei Addobea demonstrated her dedication to serving the student community.
Having previously announced her intention to run for president last year, her perseverance and commitment have now earned her the opportunity to lead the KNUST SRC.
Responsibility and Commitments
With her election as the new SRC President, Yvonne Osei Addobea assumes a position of immense responsibility. She will follow in the footsteps of her predecessor, Frank Owusu, and will be entrusted with leading and advocating for the interests of the student body.
Notably, one of her major challenges will be addressing off-campus security concerns, a pressing issue for students.
Baaba Mills Christabel: The New General Secretary-Elect
In addition to Yvonne Osei Addobea's groundbreaking achievement, Baaba Mills Christabel secured victory as the General Secretary-Elect. Baaba had contested in the previous year's election but faced defeat.
Her resilience and determination to serve the student community paid off this time, with a resounding victory, garnering a total of 10,721 votes.
Acknowledging Other Elected Officials
Kelvin Ohenaku emerged as the Financial Secretary elect, showcasing the diverse talents that students bring to the table in various leadership roles.
Mavis Abangremah Akolbila triumphed as the Women's Commissioner-elect, garnering 6,080 votes and advocating for women's interests on campus.
In brief: First Female KNUST SRC President
The election of Yvonne Osei Addobea as the first female President of the KNUST SRC marks a historic moment for the university and signifies progress in promoting gender equality in student leadership.
As she takes on the mantle of responsibility, she will be expected to fulfill her commitments to the student community and address critical issues, including off-campus security.
Alongside Yvonne, Baaba Mills Christabel's victory as General Secretary-Elect exemplifies the diverse and inclusive leadership that characterizes the KNUST SRC.
Together, these newly elected officials will undoubtedly make significant contributions to the welfare and development of the student body, propelling KNUST toward a brighter and more inclusive future.
Congratulations to all the elected officials, and may they serve as role models for aspiring student leaders across the nation.